No Comments
Medhatter's Guide to San Francisco | Page 2
On

July 7, 2015

http://www.medhatter.sg
Quick and Good Eats
If you're looking for a place to satisfy your hunger, the city is filled with  great dining places but here is one which I would strongly recommend. Tucked in between shops near the Golden Gate Park, Art's Cafe is a tiny hole in the wall restaurant cafe. Their breakfast menu comprising of tasty hashbrowns, omelettes and Rosti is not to be missed.
Immerse in Science
After have a nice meal there, make your way to Golden Gate Park, which is just a stone's throw away, and visit the California Academy of Sciences. This Academy is filled with interesting exhibits including a mini rainforest to an aquarium.
(Picture Credit: http://www.peek.com/activity-p219736-california_academy_of_sciences_san_francisco/)
(Picture Credit: http://www.grayline.com/tours/san-francisco/california-academy-of-sciences-5966_45/)
(Picture Credit: http://www.peek.com/activity-p219736-california_academy_of_sciences_san_francisco/0)
SHOP SHOP SHOP
Finally, the one thing that Singaporeans cannot live without. Shopping! Union Square offers the ultimate shopping experience, right up there with New York and London. They have everything from high end stores to the affordable in trend store such as Forever 21. Tired from all that shopping, sit down at the famous square for some serious people watching.
(Picture Credit: http://magazine.fourseasons.com/travel-food-style/things-to-do/four-seasons-san-francisco-within-walking-distance)
(Picture Credit: https://www.flickr.com/photos/jthrush/4145756133/)
HIPPIE ENCLAVES
Haight Ashbury, known throughout the world as the hippie enclave in San Francisco, is a great place to see. While the area has changed throughout the years since the hippie days, people watching is still pretty fun. Of course there are also great unique stores to browse around.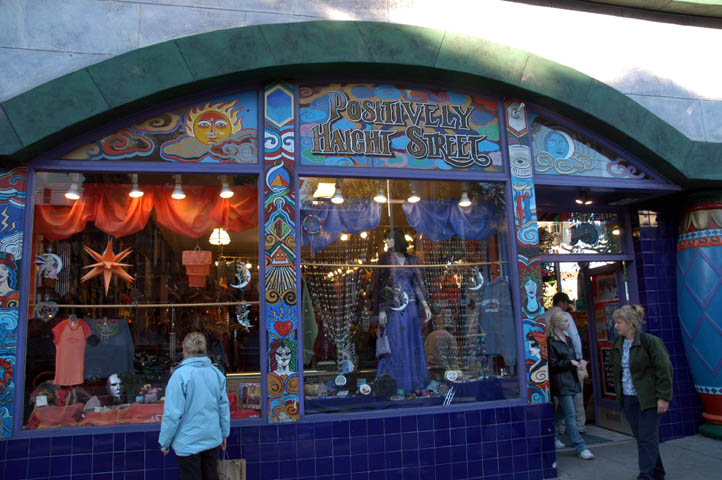 (Picture Credit: http://recollectionsvideo.co.uk/hols/San_Grancisco_-_Haight_Ashbury_shop.htm)
PEOPLE WATCH AT NORTH BEACH
Seeped in Italian culture, North Beach is not a beach but a chic neighbourhood filled with European-style sidewalk cafes, gelato stores. Stop by along Washington Square along Columbus and Grant avenues for soak in the atmosphere.  The beautiful Church of Saints Peter and Paul is a beloved landmark. Coit Tower atop Telegraph Hill offers a splendid vantage point for photos of the bridges and the Bay.
With vertigo-inducing walk or cycle ride on The Golden Gate, gorgeous views at the Pier, chic galleries,  cafés of pretty Sausalito Village and beautiful villages like Hayes Valley, Haight Street, Grant Avenue and North Beach, one can never get enough of San Francisco.
by Medhatter guest blogger Rebecca Gwee.